The Keeper of Happy Endings is the latest book by Barbara Davis, just published on October 1, 2021. Barbara Davis is a new author for me. I just finished reading this book and it was the first one written by her that I've personally read.
This post will give you a short synopsis of the book along with my personal opinion on what I liked or disliked in the book.
I don't call many books "ridiculous." However……
The Keeper of Happy Endings by Barbara Davis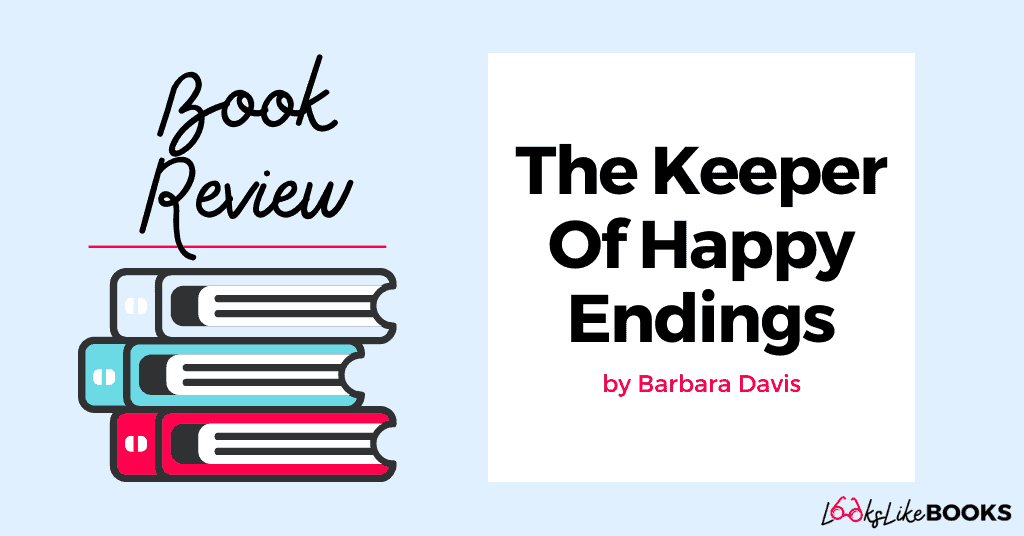 This book is ridiculously good!
I must admit I'm a sucker for happy endings. So it makes perfect sense that I would be attracted to a book with the phrase "happy endings" in the title.
Beside's seeing "happy endings" in the title, however, the cover art drew me in before I ever even touched the book.
Synopsis of The Keeper of Happy Endings
Soline Roussel is a young women from Paris, descended from a long line of women in her family who have an exclusive bridal shop in Paris. The women in her family have worked magic with a needle and thread for generations, making exquisite wedding gowns. It is said that the bride who wears a Roussel gown is guaranteed a happy ending in her marriage and a life of complete joy. But the devastation and heartbreak of World War II leave Soline's life and legacy in ruin. Will she ever find her happy ending?
A lovely young woman named Rory Grant is an aspiring gallery owner in Boston. Rory has recently suffered a dreadful shock and is desperately trying to piece her life back together, hoping that one day she will also have her happy ending. Quite by chance, Rory leases an old, unused, and perhaps forgotten building from Soline. While getting ready to transform the building into a gallery, she discovers an old box containing not only old letters but an unbelievably beautiful vintage wedding dress. When Rory meets Soline to return the items she found, an unexpected and inexplicable bond begins to develop between the two of them. Were they destined to meet?
The Keeper of Happy Endings – What I Liked
The first thing I liked about this book was the dual time frame. The book flips between present-day Boston which is set between about 1976 and 1985. The other time frame is 1943 France.
Plenty of time was spent in both the present-day setting and in 1943 France. Enough time to thoroughly get to know the characters and not get confused about what's going on when the time frame flips back and forth.
The characters, for me, were so completely likable. And there is a lot of dialogue which makes reading the book go faster for me.
Although the 1943 setting in France certainly had some very serious and heartbreaking elements in it, given what was going on in France at that point in time in history, there was still a heartwarming element to the story which stayed with me through the entire book.
And last but not least, I loved the slight bit of the paranormal that was presented in the magic that is handed down from generation to generation of Roussel women.
The Keeper of Happy Endings has everything from love, loss, and heartbreak to magic, mystery, and romance in it. I thought this book was enchanting, and it completely enchanted me. Perhaps that is the work of the Roussel women coming through the pages!
The Keeper of Happy Endings – What I Didn't Like
I've seen some reviews that labeled this book as "yet another WWII book" and therefore called the plot unoriginal. That is not my opinion but I did feel it necessary to mention that I've seen some grumblings to that effect.
I, personally, am fascinated by the time frame of the 1930s and 1940s, especially the WWII period with settings in Europe and especially in France.
Although I've read a lot of books about that period in history, I always feel I learn something new about the events that happened at that time.
There was absolutely nothing that I disliked about this book.
I completely loved every bit of it.
The Keeper of Happy Endings – Read, ReRead or Reconsider?
And now for my 3 Rs of book reviews. Read, ReRead, or Reconsider?
What is my opinion of The Keeper of Happy Endings?
This is a definite read.
I thought this was just such a great read. In reality, this would have been a ReRead for me, except that there is a bit of a twist at the end and now that I know what that twist is, I'm not sure I would reread it.
This is the first Barbara Davis book that I've read, and I'm already checking to see what other historical fiction books she's written. I'll definitely be reading this author's work again in the future. You can see all of the books she's written here on Barbara Davis's Amazon author page.
I seem to be reading more historical fiction lately, and I can't seem to get enough of it. How about you?
---
Related Posts:
---
Just in case you prefer to "listen" to your books rather than read them, here's a nice opportunity to try Audible free for 30 Days.
Try Audible Free For 30 Days & Get Your First Audiobook Free!
---
Is this your first visit to Looks Like Books? If so, be sure and check out my About page so you can learn a little more about me and my Looks Like Books mission.
Mary Emmer, the founder of Looks Like Books, is an avid book enthusiast and self-employed entrepreneur, with an inspiring passion for reading and learning. With a background in the travel industry spanning four decades, Mary has cultivated a diverse range of experiences that have shaped her unique perspective on life and storytelling. Books have always held a special place in Mary's life and have served as a constant source of comfort, inspiration, and personal growth. Her mission is to ignite the same passion for reading in others and to encourage them to explore new worlds within the pages of a book. More about Mary.