Review: The Silent Fountain by Victoria Fox
Looks Like Books contains affiliate links and is a member of the Amazon Services LLC Associates Program. If you make a purchase using one of these affiliate links I may receive compensation at no extra cost to you. See my Disclaimer to learn more.
For one reason or another, I almost skipped The Silent Fountain. Oops, that would have been a huge mistake!
This book was an unexpected surprise in many ways. Had I realized that I was really getting what I would call a gothic romance style book in the style of gothic romance greats like Victoria Holt or Phyllis Whitney, I would have grabbed this book faster than you can blink an eye.
But, I didn't fully grasp that fact until after I started the book because certain elements in the description threw me off, like the timeframe it was set in. I'm used to gothic romance-style books being set in an earlier time period. Like in Victorian times, perhaps. Luckily, I was compelled to read it by the cover image, and a sentence on the cover – "Beneath the surface lies a terrible secret…."
Who can resist a sentence like that? Especially if you were kind of in the mood for a mysterious book to begin with.
In my review I will give you a short synopsis of The Silent Fountain, and also my feelings about the book and whether you should bother with it or not.
The Silent Fountain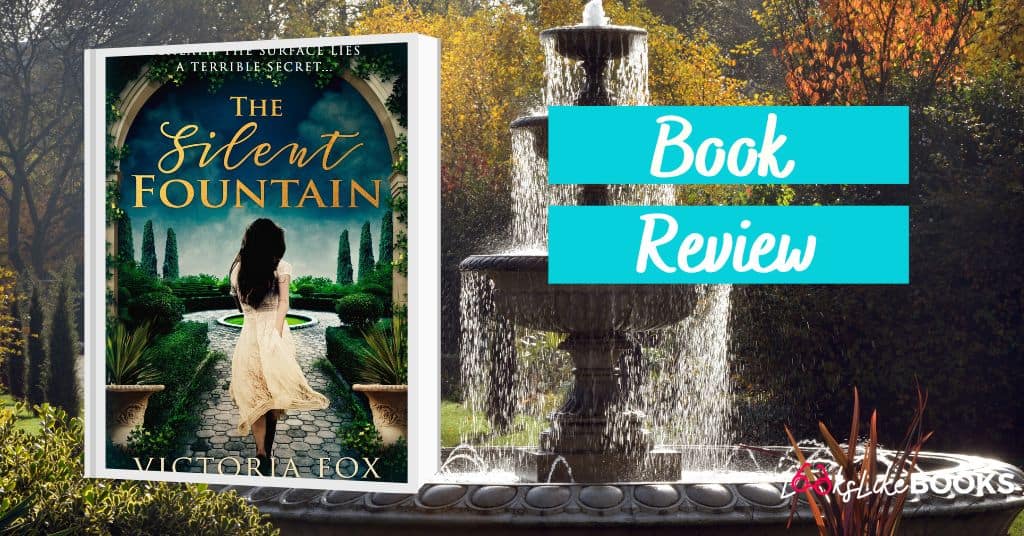 The Silent Fountain by Victoria Fox was actually published in 2017, so it's been around for a while. I'm not exactly sure how it escaped my notice for so long.
Victoria Fox is a new author for me, and The Silent Fountain is the first book of hers that I've read. It certainly won't be the last. I'm already yearning for more and find myself searching around to see what else she's already written, and hoping she continues writing in the future.
Victoria Fox was born in 1983, currently lives in Bristol with her family, and as of now has written seven books. She used to work in publishing but decided to take the leap across her desk over to the other side and has now been writing long enough to produce seven novels.
Victoria Fox's first six books seem to be more celebrity glitz-type books, although I haven't actually read them yet. The Silent Fountain is a bit darker and mysterious. I've previously mentioned that I was reminded of gothic romance authors like Victoria Holt and Phyllis Whitney, but I'm also reminded of other gothic authors in the style of Daphne du Maurier as well. I think The Silent Fountain is somewhat of a contemporary take on the du Maurier style of gothic.
The Silent Fountain seems to be the last book she wrote, as I can't find anything published after 2017.
Publisher's Synopsis of The Silent Fountain
Hollywood, 1978

Tragedy sends troubled film star Vivien Lockhart into the arms of Giovanni Moretti—and it seems her fortunes have finally changed. Until she meets his sister and learns that her new husband's past holds dark secrets . . .

Tuscany, Present day

Lucy Whittaker needs to disappear. But her new home, the crumbling Castillo Barbarossa, is far from the secluded paradise it seemed. Strange sounds come from the attic. The owner of the house will never meet her in person.

The fountain in the courtyard is silent—but has never run dry.

Across the decades, Vivien and Lucy find themselves trapped in the idyllic Italian villa.

And if they are ever to truly escape its walls, they must first unearth its secrets . . .
The Silent Fountain – What I Liked
It's hard to know where to start here because there are just so many things to like about this book if you like the romantic suspense or gothic romance genre.
The setting of this book is mostly in Italy in the crumbling Castillo Barbarossa. How much more atmospheric can it get than that? I could easily picture a crumbling Castillo and feel what it would be like to wander the dark halls and passages at night. But the attic? No, I wouldn't go there.
There are three very strong female characters, not all likable but very necessary to the story. Isabella represents a villain in the book and feels very menacing. Vivien who is her sister-in-law starts out as the innocent, sweet wife who had a very hard life growing up. But as time went on, I found myself getting frustrated with Vivien for being so insecure in her relationship with her husband and allowing Isabella to cause a division between her and her husband. And finally young, innocent Lucy comes onto the scene when Vivien is much older. It's through the eyes of Lucy that we start unraveling the strange mystery at Castillo Barbarossa. I liked Lucy right from the start.
Also, regarding my feelings for the characters, although I had very specific like or dislike feelings for each of the characters almost right from the beginning of the book, by halfway through I was uncertain whether I had misjudged them in some way. The book was so cleverly done that I questioned my own feelings. By the time I was approaching the last quarter of the book, I honestly had no idea if my initial assessment of these characters was correct or whether I had a huge surprise coming in the form of a last-minute twist before the end. This really kept me intrigued by the story until the very end.
This is a twisty book with clever little cliffhangers at the end of almost every chapter which kept the book moving very quickly. I couldn't wait to turn the pages so I could get to the end of the book. It was very suspenseful.
The Silent Fountain – What I Didn't Like
There wasn't anything that I didn't like about this book.
The Silent Fountain – Read, ReRead, or Reconsider?
And now, for my 3 Rs of book reviews.
Should you Read, Re-read, or Reconsider The Silent Fountain by Victoria Fox?
Read!
The Silent Fountain – Conclusion
This book is an excellent example of what I would call a gothic romance in the style of Victoria Holt, Phyllis Whitney, or even Daphne du Maurier's Rebecca.
This was a clever fast-paced read set in an atmospheric castle and included mystery, romance, tension, jealousy, tragedy, obsession, and friendship all rolled into one delicious slightly dark book and I was completely swept away from page one.
You Might Also Like These
---
Do you prefer to "listen" to your books rather than read them, here's a nice opportunity to try Audible free for 30 Days.
Is this your first visit to Looks Like Books? If so, check out our About page so you can learn a little more about me and my Looks Like Books mission.
---
There are so, so many different types of romance books out there. I've described The Silent Fountain as a gothic romance which is one of my favorite romance sub-genres. How about you? You might find a new romance sub-genre that appeals to you here in our romance book guide. Check that out and see what else appeals to you.
---
Do You Love Romance Books? Related Romance Reading…
---