The Awakening is the first book in The Dragon Heart Legacy, a new trilogy written by Nora Roberts.
If you're a "Nora" fan, you'll know that she has written many different series, and a lot of them are groups of three books, or trilogies, like this one.
I've read every Nora Roberts book in existence, with the exception of the Chronicles of the One trilogy which just wasn't my cup of tea. When I first saw The Awakening, I was afraid that, for me, it would end up with the same fate as "Chronicles"
But, I must admit, I pre-judged The Awakening before reading it. And oh how wrong it was for me to do so! This post will give you a short synopsis along with my thoughts on this latest series by Nora Roberts.
The Awakening by Nora Roberts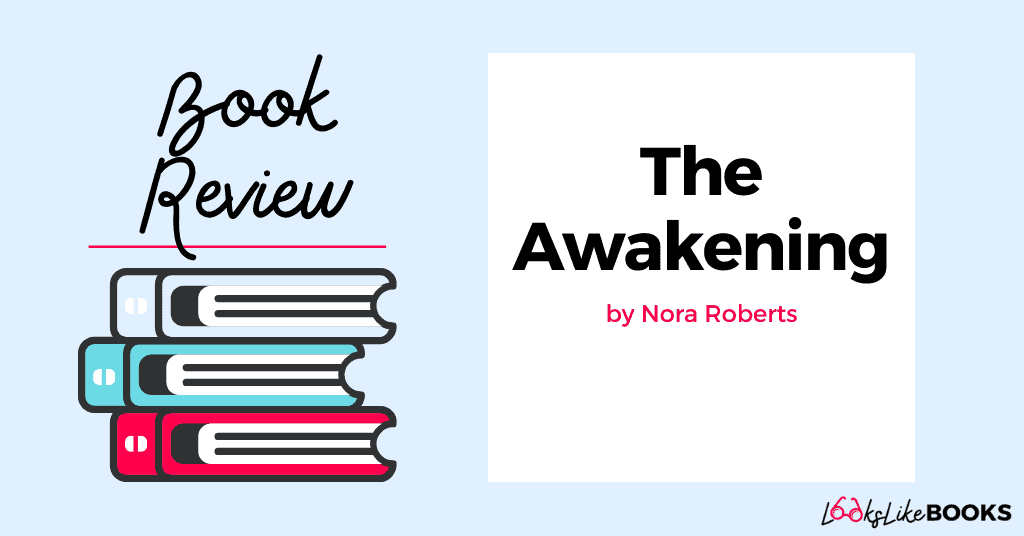 So, another series by Nora Roberts!
The Awakening is the first book in The Dragon Heart Legacy. The second book is The Becoming which was just released yesterday. There will be a third one, presumably sometime next year if Nora sticks to the same schedule that she did with the first two books.
Honestly, I almost overlooked this particular series.
Why? Because I, personally, didn't like her last series which was the Chronicles of the One. But now, I may need to revisit what I thought I wouldn't like about "Chronicles". You know, just to be fair!
Synopsis of The Awakening
Adventure, romance, magick…
When Breen Kelly was just a small child, her father would tell her magical stories and talk of a magical place called Talamh. Now, a young woman in her early twenties, Breen is struggling to make life work. Between student debt and a career she dislikes and never wanted, her life isn't going quite as planned. But one day Breen accidentally stumbles across an investment portfolio that her mother has hidden from her. No problem, right? Wrong! The investment portfolio is in Breen's name and worth almost four million dollars. Why has her mother withheld this information from her? Especially knowing that some financial help would have drastically changed her life.
What Breen doesn't know but will soon find out, is that when she uses some of the money for a trip to Ireland, mysteries that she could never even have imagined will be unlocked. Even though she doesn't understand what she's seeing, hearing, and dreaming about, it's clear that her destiny lies somewhere through a portal in Galway that takes her to a magical land of faeries, mermaids, dragons, and love.
The Awakening – What I Liked
Well, the first thing I liked about this book was the Irish setting.
I know, a lot of books are set in Ireland and some may find that boring after a while. But I must admit, I have a secret love affair with Ireland, and reading a book set there just somehow transports me right across the Atlantic where I can imagine I live.
The main character, Breen Kelly, was instantly likable. Another favorite character for me was Breen's best friend Marco and their little "family" of coworkers and friends. No more on that right now. You need to read The Awakening to meet Breen, Marco, and the gang.
The Awakening – What I Didn't Like
There wasn't really anything in the book that I didn't like.
I almost overlooked this series because it seemed too "fantasy" for me. Normally, I'm not a fantasy reader. So, when I realized that there were going to be some fantasy elements in this book (faeries, dragons) well, I didn't like that.
But I'm sorry to say that I misjudged the book before I even started reading it simply because of the fantasy elements.
I ended up loving everything in this book.
The Awakening – Read, ReRead or Reject?
And now for my 3 Rs of book reviews. Read, ReRead or Reject?
What is my honest opinion of The Awakening?
Well, since I just finished this book for the second time, apparently my opinion is that this is a ReRead!
Since the second book in The Dragon Heart Legacy was just released, I wanted to refresh my memory of what the first book was all about. So that's why I just read it for the second time.
I loved The Awakening just as much the second time I read it as I did the first. And I can't wait to dig into The Becoming!
I've reviewed the second and third books in The Dragon Heart Legacy series already, so you can check out my thoughts about The Becoming and The Choice whenever you're ready!
---
Related Posts:
---
Just in case you prefer to "listen" to your books rather than read them, here's a nice opportunity to try Audible free for 30 Days.
Try Audible Free For 30 Days & Get Your First Audiobook Free!
---
Is this your first visit to Looks Like Books? If so, check out our About page so you can learn a little more about me and my Looks Like Books mission.
Mary Emmer, the founder of Looks Like Books, is an avid book enthusiast and self-employed entrepreneur, with an inspiring passion for reading and learning.  With a background in the travel industry spanning four decades, Mary has cultivated a diverse range of experiences that have shaped her unique perspective on life and storytelling.  Books have always held a special place in Mary's life and have served as a constant source of comfort, inspiration, and personal growth.  Her mission is to ignite the same passion for reading in others and to encourage them to explore new worlds within the pages of a book.  More about Mary.