A 1939 fancy French Riviera house party, a faux murder gone wrong, a lost manuscript, and the enduring power of friendship is all wrapped together in this latest novel by Kirsty Manning, The French Gift.
Kirsty Manning returns with an interesting story that takes place in present day and also 1940's France during WWII.
There's a mystery to be solved here, and this book takes you on a rather twisty road to the conclusion. But is the mystery solved? You'll just need to read The French Gift to find out.
The French Gift by Kirsty Manning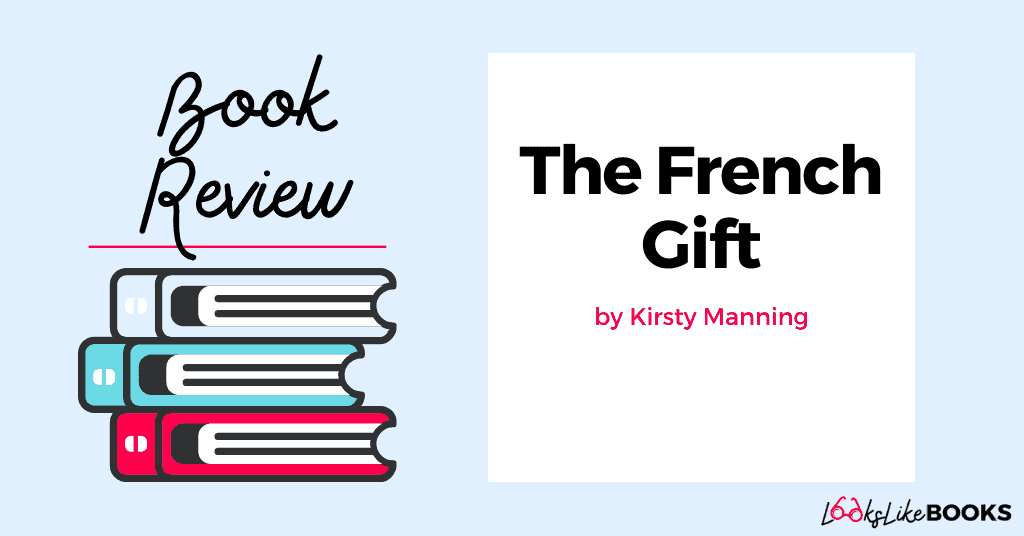 Yes, this is yet another book set during the WWII period in France, a popular time period for many of my favorite historical fiction authors.
I've heard it said that this subject has already been exhausted and that there are just too many books about it. But I strongly disagree.
Despite the fact that I've read so many books set in this time period, I'm still hopelessly drawn to this time in history.
Yes, there are many books about it, but they're all slightly different, with different characters, voices, emotions, and outcomes. And I learn something new with each of the books that I read. So I believe that there can never be enough books written about this historical period in our past, as long as we can keep learning new things with each book.
Synopsis of The French Gift
A forgotten manuscript….
Fresnes Prison, 1940: Margot Bisset, a former maid at a villa on the French Riviera, is set up to take the fall when her employer insists that she play a key part in a faux murder they plan to enact at a luxurious dinner party. She finds herself imprisoned, and a cellmate of French writer and Resistance fighter Josephine Murant. The secrets they share over the next few years will bind them together for a lifetime.
Paris, present day: Evie Black lives in Paris, above her botanical bookshop, with her teenage son Hugo. A letter arrives regarding the legacy of her late husband's great-aunt, Josephine Murant. Still mourning her late husband, the love of her life, Evie jumps at the chance to travel to Josephine's house on the riviera, where she welcomes the opportunity to spend time there with her son. While there, Evie must unravel the true story of Great Aunt Josephine, the famous novelist, and how she might have been involved with an unknown maid convicted of murder in 1939.
The French Gift – What I Liked
The French Gift is set in multiple time periods, and while I've read so many books about the WWII period and the French Resistance effort, I always seem to be drawn to more.
This book was inspired by the true story of Resistance fighter Agnes Humbert, whose secret journal told of the horrible existence she endured while incarcerated in Anrath Prison and forced to work at the Phrix Rayon Factory. The French Gift pays homage to the women who were imprisoned in labor camps during WWII. And again, despite the fact that I've read so many books about the French Resistance in general, I learned many new facts about these women that I never knew.
Also, a lot of time was spent on telling the story from multiple viewpoints, so a lot of changing back and forth between not only viewpoints but also time periods. However, I felt that the characters were well developed and because the author spends so much time during the telling from each viewpoint, I really got to know the characters in depth.
In the end, this novel, complete with all its twists and turns, is about the enduring power of friendship and how those relationships can literally have life-changing effects on us.
The French Gift – What I Didn't Like
Because of the way the story was told, from three different main characters' viewpoints during multiple time periods, the book switched from time period to time period rather frequently. And I felt lost once in a while. Specifically, because some of the chapters included flashbacks of the character and it sometimes took a while to figure out which time period they were referring to. This caused me to go back and reread some sections more than once, which made the book feel like it was going more slowly than I would have liked.
The French Gift – Read, ReRead or Reject?
And now for my 3 Rs of book reviews. Read, ReRead or Reject?
What is my opinion of The French Gift?
A definite read!
Despite the fact that I was a bit lost through some of the time periods and viewpoint changes, I still thought that this book was excellent.
This is the second book by Kirsty Manning that I've read. The first was The Lost Jewels. You can find all of her books here on Kirsty Manning's Amazon author page.
---
Related Posts:
---
Just in case you prefer to "listen" to your books rather than read them, here's a nice opportunity to try Audible free for 30 Days.
Try Audible Free For 30 Days & Get Your First Audiobook Free!
---
Is this your first visit to Looks Like Books? If so, check out our About page so you can learn a little more about me and my Looks Like Books mission.
Mary Emmer, the founder of Looks Like Books, is an avid book enthusiast and self-employed entrepreneur, with an inspiring passion for reading and learning. With a background in the travel industry spanning four decades, Mary has cultivated a diverse range of experiences that have shaped her unique perspective on life and storytelling. Books have always held a special place in Mary's life and have served as a constant source of comfort, inspiration, and personal growth. Her mission is to ignite the same passion for reading in others and to encourage them to explore new worlds within the pages of a book. More about Mary.