God Rest Ye Royal Gentlemen is the latest book in the Royal Spyness series by Rhys Bowen, and if you're a fan of not only mystery books in general but specifically Lady Georgianna, you won't want to miss out on what happens in this book.
A fun whodunit with Lady Georgie to get you in the holiday spirit, complete with Georgie's own personal style of sleuthing along with some Christmas cheer.
What more could you possibly ask for?
Well, this post will give you a sneak peek into God Rest Ye Royal Gentlemen along with my thoughts on what I liked and didn't like.
God Rest Ye Royal Gentlemen by Rhys Bowen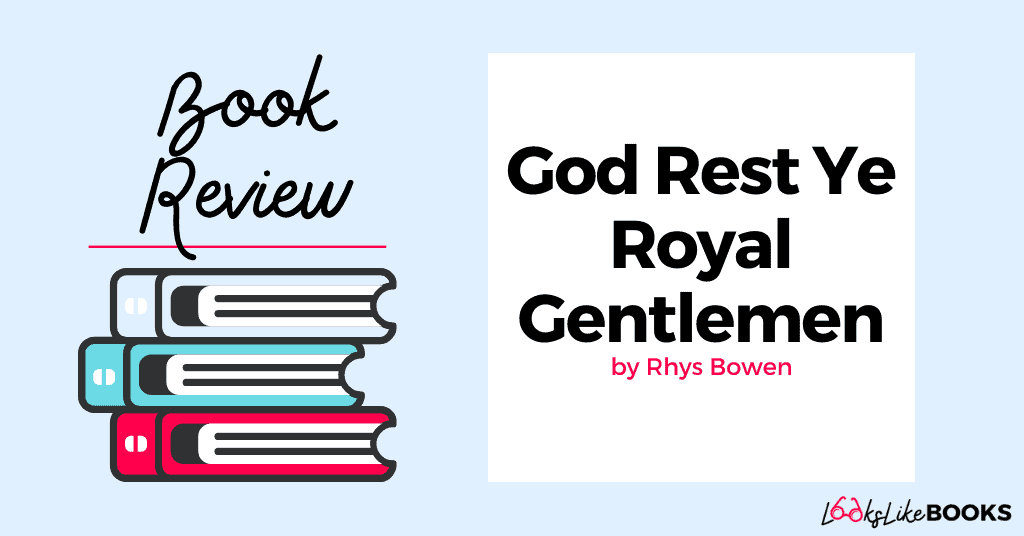 This is the 15th book in the Royal Spyness series featuring Lady Georgianna Rannoch. Lady Georgie, as her friends call her, is 35th in line to the British throne and dead broke.
Oops, perhaps saying "dead" is not a good idea in conjunction with this book!
Lady Georgie is flat broke, that's better. We hope she won't be dead anytime soon.
Lady Georgianna and her family are up to all sorts of things in this book, and you won't want to miss a single one of them! All while enjoying a traditional holiday in an atmospheric English country house with the royal family right next door.
Nothing could possibly go wrong with that scenario, right?
Synopsis of God Rest Ye Royal Gentlemen
Lady Georgianna Rannoch is back! And so excited to celebrate the holidays as a newlywed, and in her lovely new home.
Why not have a lovely little house party?
But as the planning begins, Darcy receives a letter from his aunt and unfortunately, there has to be an abrupt change of plans.
Before we know it Georgie must scrap all her plans for her own house party and instead attend one at Darcy's Aunt Ermintrude's house. Along with the notorious Mrs. Simpson and, oh dear….the Prince of Wales sneaking over from Sandringham to visit her!
The holiday fun begins, but so do a number of very strange accidents. Could it be that someone wants to harm the heir to the throne or the soon-to-be-divorced Mrs. Simpson that he insists on carrying on with?
God Rest Ye Royal Gentlemen – What I Liked
The latest book (#15) in the Royal Spyness series did not disappoint!
After this many books in a series, sometimes I find myself getting tired of the characters, but that is not so with Lady Georgie and her family.
I loved the Christmas setting of this book, and as with all the others in this series, there was plenty of humor mixed in with the whodunit.
And some very unexpected news for Georgie. You'll just have to read this book to find out what it was.
God Rest Ye Royal Gentlemen – What I Disliked
Nothing!
There wasn't anything that I didn't like about this book. After 15 Lady Georgie books, I'm still completely in love with this lively, fun mystery series and it was especially fun to have a new one published right before the holidays and actually set during a traditional English Christmas house party.
God Rest Ye Royal Gentlemen – Read, ReRead or Reject?
And now for my 3 Rs of book reviews. Read, ReRead or Reject?
What is my opinion of God Rest Ye Royal Gentlemen?
A definite read!
As mentioned above, this book is #15 in the Royal Spyness series by Rhys Bowen.
I recommend reading them in order so you know what's going on and don't miss out on anything. Here's a list of the whole Royal Spyness series in order so you don't miss out on anything.
And if you enjoy Rhys Bowen's writing but haven't yet read anything other than the Royal Spyness series, you might be interested to know that Rhys also writes another historical fiction series as well as some standalone books. You can find them all here on Rhys Bowen's Amazon author page.
---
Just in case you prefer to "listen" to your books rather than read them, here's a nice opportunity to try Audible free for 30 Days.
Try Audible Free For 30 Days & Get Your First Audiobook Free!
---
Related Posts:
Mary Emmer, the founder of Looks Like Books, is an avid book enthusiast and self-employed entrepreneur, with an inspiring passion for reading and learning. With a background in the travel industry spanning four decades, Mary has cultivated a diverse range of experiences that have shaped her unique perspective on life and storytelling. Books have always held a special place in Mary's life and have served as a constant source of comfort, inspiration, and personal growth. Her mission is to ignite the same passion for reading in others and to encourage them to explore new worlds within the pages of a book. More about Mary.