Review: Winter Garden by Kristin Hannah
Looks Like Books contains affiliate links and is a member of the Amazon Services LLC Associates Program. If you make a purchase using one of these affiliate links I may receive compensation at no extra cost to you. See my Disclaimer to learn more.
Confession time! I was somewhat late to the party because Winter Garden by Kristin Hannah is the very first book of hers that I've read.
I'm not sure exactly how I missed this author.
Well, OK. I didn't miss her. I've certainly known about her for a long time, however, I neglected to read her. What can I say? I messed up:)
The question is, what was the book like?
My review of Winter Garden by Kristin Hannah will certainly answer that question for you! In fact, I'll share my total thoughts on Winter Garden, what I liked and disliked, and then let you know if you should read it, reread it, or completely reconsider reading it.
So let's get going.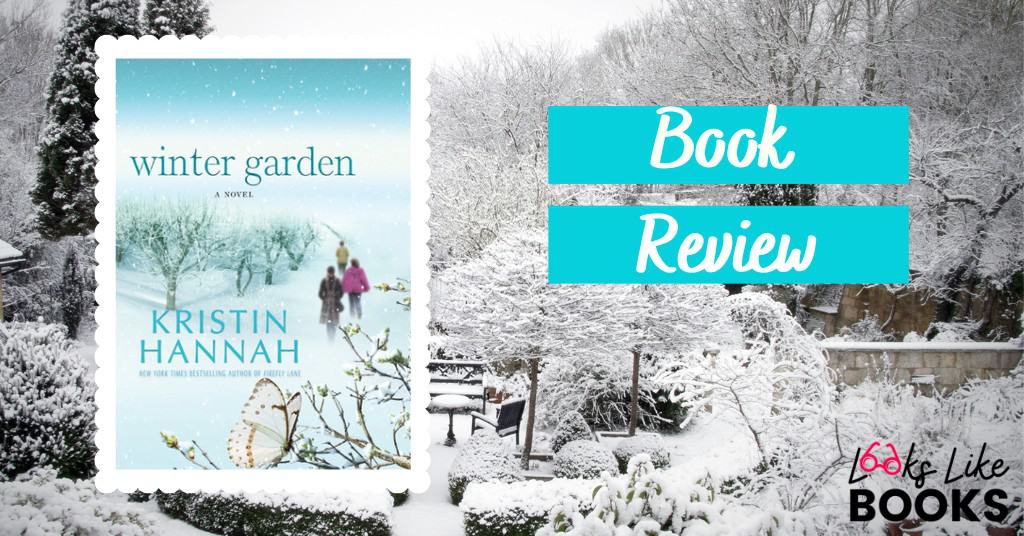 Who Is Kristin Hannah?
Before I get to the actual review of Winter Garden, are you already familiar with Kristin Hannah?
She is the award-winning American author of more than 24 books at this point, a number of which have become international bestsellers.
Kristin Hannah lives in the Pacific Northwest with her husband. She was actually a lawyer before she became a novelist. She's not the only lawyer turned novelist out there. I find that to be an interesting move, going from a legal career to a literary one.
Kristin Hannah is well-known for writing historical fiction but also writes what she refers to as women's fiction that heavily features female bonding, motherhood, and the emotional strength of women.
Get a 30-day Audible free trial – Sign up for a free trial of Audible and get 30 days of free access to a library of thousands of audiobook titles and a credit to purchase any premium selection title, regardless of price. Prime Members get 2 free credits during their trial.

Get a 30-day Kindle Unlimited free trial – Sign up for a free trial of Kindle Unlimited and get 30 days of free unlimited access to over 4 million digital titles including bestsellers, popular series, classics, and much more.

Get a 30-day Amazon Prime free trial – Sign up for a free Amazon Prime free trial and get 30 days of Prime benefits including free 2-day shipping on any purchases, access to hundreds of new ebooks each month, and more.
Publisher's Synopsis of Winter Garden By Kristin Hannah
Meredith and Nina Whitson are as different as sisters can be. One stayed at home to raise her children and manage the family apple orchard; the other followed a dream and traveled the world to become a famous photojournalist.
But when their beloved father falls ill, Meredith and Nina find themselves together again, standing alongside their cold, disapproving mother, Anya, who even now, offers no comfort to her daughters. As children, the only connection between them was the Russian fairy tale Anya sometimes told the girls at night.
On his deathbed, their father extracts a promise from the women in his life: the fairy tale will be told one last time—and all the way to the end.
Thus begins an unexpected journey into the truth of Anya's life in war-torn Leningrad, more than five decades ago.
Alternating between the past and present, Meredith and Nina will finally hear the singular, harrowing story of their mother's life, and what they learn is a secret so terrible and terrifying that it will shake the very foundation of their family and change who they believe they are.
Winter Garden by Kristin Hannah – What I Liked
There are so many things I loved about this book, that I don't even know where to start.
The thing that first attracted me to the book was the idea that somehow, there would be a retelling of a fairy tale at some point in the book. Much to my surprise, the fairy tale was woven into the book in such a unique way, and it was really a central part of the entire book.
I also liked the way the story was told in a dual timeframe, with the earlier part of the timeframe told via the fairy tale itself.
Winter Garden is rich in Russian history, and I enjoyed that aspect of the book quite a bit.
There was a heartbreaking aspect to some of the characters, but I liked them all immensely, especially the daughters Meredith and Nina.
I thought Winter Garden explored the relationship between mothers and daughters and sisters. And this made me reflect on my own relationships with my mother and my sister.
Finally, along with the Russian history woven throughout Winter Garden, I learned about the siege of Leningrad which is really the piece of Russian history that is central to the book. I really didn't know much about this before I read Winter Garden, and I always like to learn something new when I read historical fiction.
This book made me Google stuff! I love it when that happens.
Honestly, this book is not short, at somewhere around 400 pages, but for me, it was a fast read because I couldn't wait to get to the next section of the fairy tale to find out what happens next.
Winter Garden by Kristin Hannah – What I Didn't Like
I can't say there is anything in Winter Garden by Kristin Hannah that I didn't like. Although I cannot give you any spoilers here, I have noticed in a few other reviews that some say the ending was sad, bad, or heartwrenching, but I cannot agree.
In one way, I guess there is a heartwrenching aspect to the ending. But for me, I would describe it as heartwarming and uplifting.
Winter Garden by Kristin Hannah – Read, ReRead, or Reconsider?
And now, for my 3 Rs of book reviews.
Should you read, reread, or reconsider reading Winter Garden by Kristin Hannah?
A Definite Read!
If you like historical fiction, especially books that take place in somewhat of a dual timeframe, you may absolutely love Winter Garden by Kristin Hannah as much as I did.
I thought this book was unique in the way that the author wrote the fairytale in as part of the earlier timeframe portrayed in the book. I found this book heartwarming, uplifting, and a wonderful opportunity to consider mother, daughter, and sister relationships in any family.
This book is a treasure! And I'm going to have to delve further into reading more Kristin Hannah books as soon as possible.
And, if you really like this genre and are looking for more books, you can explore more historical fiction here and see if you find anything that interests you.
---
Do you prefer to listen to your books rather than read them? A lot of people do. It's great to be able to listen while you're driving, taking public transportation, maybe while you're working out, or even perhaps while you're cooking! If you're one of those people, here's a nice opportunity to try Audible for 30 days.
Is this your first visit to my blog? If so, check out my About page to learn more about what the heck goes on around here.
Need a bookish gift?
Give the gift of reading to the book lovers in your life. These gifts are the ones that never stop giving. And readers love them!
Give an Audible Subscription – Audiobooks are just great for people on the go! Even for peeps who aren't on the go so much. After all, some people just prefer to listen to their books rather than read. Audible subscriptions make the perfect gift for almost everyone on your list.

Give a Kindle Unlimited Subscription – What's not to love about Unlimited Books! A gift subscription to Kindle Unlimited is a thoughtful gift that your favorite readers will love and appreciate.
More Historical Fiction Book Reviews: