Outlander has certainly become more than just a book! It has practically become a movement. And that movement has a lot of moving parts. This complete list of all the Outlander books in order will help you navigate the world of Outlander.
Because after all, this thing called Outlander began with just a single book.
That first book, Outlander, is one that is almost impossible to describe.
I read Outlander back in 1991 when it was originally published in the U.S. At the time, I thought of it as a romance book. Or, more specifically as a historical romance. But in reality, it's so much more. Even the author herself says she can't describe her own book in 25 words or less.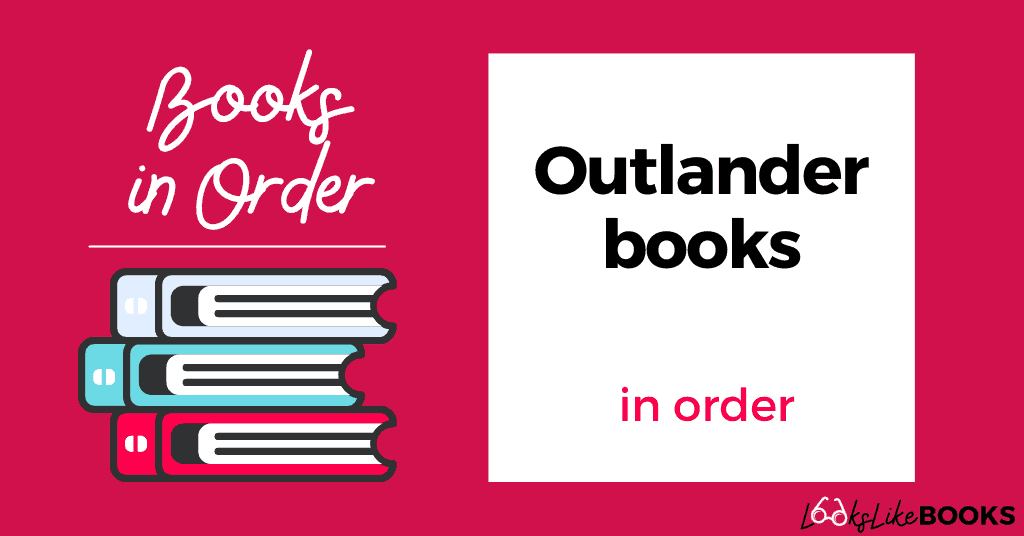 Little did I know what was coming, with this long Outlander series that was totally unexpected. Perhaps what that one book developed into was unexpected even by the author, Diana Gabaldon, herself.
There are now quite a few books in this series. And even I, who am quite familiar with them, need this list of Outlander books in order to help me keep them all straight!
What Is the Outlander Series?
If you're not already familiar with the Outlander books, they were written by author Diana Gabaldon. Outlander is the actual title of the first book, and it's also what the entire series is referred to – the Outlander series.
Categorizing this series is difficult because the books are a mixture of genres. They are certainly historical romance books. But they could also be referred to as historical fiction, fantasy, time travel romance, gay romance, and a few more. And technically, all of those labels would be correct, as the books contain elements of all of those things.
But the bottom line with Outlander is – it's really an epic love story that takes place across multiple time frames and continents over a period of hundreds of years.
And this brings me to the book bizarre-o-meter!
In reality, the Outlander series is completely bizarre in that the characters time travel. Who would have guessed that what started out as a single sort of bizarre historical romance novel would turn into this amazing book series, and then further turn into a hugely successful Starz TV series?
Apparently, they are not too bizarre, however, for a huge audience to love them. As of 2022 these books are being sold in 114 countries and translated into 38 languages.
I feel sort of like Outlander was the forerunner to the time-travel romance genre. I love time-travel series, and I think Outlander is what got me started with that.
Outlander Books In Order – Complete List
Here's a quick list of the main Outlander books in order. These are the "big" books. If you've read any of them already, you'll know what I mean by big. These books are enormous in size, meaning the length of the book. These are the main novels in the Outlander series, and they are really, really long. Most of these are somewhere between 900-1500 pages.
If you don't like long books, then the Outlander series may not be a good fit for you.
There are also some novellas and some series that are spin-offs of the Outlander series itself which you'll find below. But in terms of the main Outlander book series, these are the books. There is a short description of each one further down in this post.
So far there are 9 books in this series. Rumor has it there may be a 10th book. I hope so 🙂
????? (#10 – currently being written)
These books were technically written to be able to stand alone. In other words, not only as part of a series. So, if you picked up any single one of these books and read it out of order (gasp), you would still be able to understand it and enjoy the book.
But, if you've spent much time on this blog, you'll know that I'm 100% in favor of reading book series in order!
Especially a somewhat short series (LOL) like this. Short in the number of books perhaps, but not in the number of pages.
In my opinion, you will get much, much more out of the Outlander series if you read them in order.
Publisher's Synopsis Of All Outlander Books In Order
Beware! If you plan to read this entire series, skip the publisher's synopsis for every book below except the first one because there will be some spoilers.
Outlander Books #1 – Outlander
This is the place where it all starts. The Scottish Highlands, 1945. Claire Randall, a former British combat nurse is just back from the war, and on her second honeymoon after being reunited with her husband, Frank. Claire walks into an ancient circle of standing stones and is suddenly catapulted back through time to a very different Scotland, in the year of Our Lord ….. 1743.
Outlander Books #2 – Dragonfly In Amber
For twenty years, Claire Randall has kept her secrets. But now she is returning with her grown daughter to the mysteries of Scotland's mist-shrouded Highlands.

Here Claire plans to reveal a truth as shocking as the events that gave it birth: the secret of an ancient circle of standing stones, the secret of a love that transcends centuries, and the truth of a man named Jamie Fraser—a Highland warrior whose gallantry once drew the young Claire from the security of her century to the dangers of his.

Claire's spellbinding journey continues through the intrigue-ridden French court and the menace of Jacobite plots, to the Highlands of Scotland, through war and death in a desperate fight to save both the child and the man she loves.
Outlander Books #3 – Voyager
Their passionate encounter happened long ago by whatever measurement Claire Randall took. Two decades before, she had traveled back in time and into the arms of a gallant eighteenth-century Scot named Jamie Fraser. Then she returned to her own century to bear his child, believing him dead in the tragic battle of Culloden. Yet his memory has never lessened its hold on her . . . and her body still cries out for him in her dreams.
Then Claire discovers that Jamie survived. Torn between returning to him and staying with their daughter in her own era, Claire must choose her destiny. And as time and space come full circle, she must find the courage to face the passion and the pain awaiting her . . . the deadly intrigues raging in a divided Scotland . . . and the daring voyage into the dark unknown that can reunite—or forever doom—her timeless love.
Outlander Books #4 – The Drums Of Autumn
What if you knew someone you loved was going to die? What if you thought you could save them? How much would you risk to try?
Claire Randall has gone to find Jamie Fraser, the man she loved more than life, and has left half her heart behind with their daughter, Brianna. Claire gave up Jamie to save Brianna, and now Bree has sent her mother back to the mysterious Scottish warrior who was willing to give his life to save them both. But a chilling discovery in the pages of history suggests that Jamie and Claire's story doesn't have a happy ending.
Brianna dares a terrifying leap into the unknown in search of her mother and the father she has never met, risking her own future to try to change history . . . and to save their lives. But as Brianna plunges into an uncharted wilderness, a heartbreaking encounter may strand her forever in the past . . . or root her in the place she should be, where her heart and soul belong.
Outlander Books #5 – The Fiery Cross
The year is 1771, and war is coming. Jamie Fraser's wife tells him so. Little as he wishes to, he must believe it, for hers is a gift of dreadful prophecy—a time-traveler's certain knowledge.
Born in the year of Our Lord 1918, Claire Randall served England as a nurse on the battlefields of World War II, and in the aftermath of peace found fresh conflicts when she walked through a cleftstone on the Scottish Highlands and found herself an outlander, an English lady in a place where no lady should be, in a time—1743—when the only English in Scotland were the officers and men of King George's army.
Now wife, mother, and surgeon, Claire is still an outlander, out of place, and out of time, but now, by choice, linked by love to her only anchor—Jamie Fraser. Her unique view of the future has brought him both danger and deliverance in the past; her knowledge of the oncoming revolution is a flickering torch that may light his way through the perilous years ahead—or ignite a conflagration that will leave their lives in ashes.
Outlander Books #6 – A Breadth Of Snow And Ashes
The year is 1772, and on the eve of the American Revolution, the long fuse of rebellion has already been lit. Men lie dead in the streets of Boston, and in the backwoods of North Carolina, isolated cabins burn in the forest.

With chaos brewing, the governor calls upon Jamie Fraser to unite the backcountry and safeguard the colony for King and Crown. But from his wife Jamie knows that three years hence the shot heard round the world will be fired, and the result will be independence—with those loyal to the King either dead or in exile. And there is also the matter of a tiny clipping from The Wilmington Gazette, dated 1776, which reports Jamie's death, along with his kin. For once, he hopes, his time-traveling family may be wrong about the future.
Outlander Books #7 – An Echo In The Bone
Jamie Fraser, former Jacobite and reluctant rebel, is already certain of three things about the American rebellion: The Americans will win, fighting on the side of victory is no guarantee of survival, and he'd rather die than have to face his illegitimate son—a young lieutenant in the British army—across the barrel of a gun.
Claire Randall knows that the Americans will win, too, but not what the ultimate price may be. That price won't include Jamie's life or his happiness, though—not if she has anything to say about it.
Meanwhile, in the relative safety of the twentieth century, Jamie and Claire's daughter, Brianna, and her husband, Roger MacKenzie, have resettled in a historic Scottish home where, across a chasm of two centuries, the unfolding drama of Brianna's parents' story comes to life through Claire's letters. The fragile pages reveal Claire's love for battle-scarred Jamie Fraser and their flight from North Carolina to the high seas, where they encounter privateers and ocean battles—as Brianna and Roger search for clues not only to Claire's fate but to their own. Because the future of the MacKenzie family in the Highlands is mysteriously, irrevocably, and intimately entwined with life and death in war-torn colonial America.
Outlander Books #8 – Written In My Own Heart's Blood
1778: France declares war on Great Britain, the British army leaves Philadelphia, and George Washington's troops leave Valley Forge in pursuit. At this moment, Jamie Fraser returns from a presumed watery grave to discover that his best friend has married his wife, his illegitimate son has discovered (to his horror) who his father really is, and his beloved nephew, Ian, wants to marry a Quaker. Meanwhile, Jamie's wife, Claire Randall, and his sister, Jenny, are busy picking up the pieces.

The Frasers can only be thankful that their daughter Brianna and her family are safe in twentieth-century Scotland. Or not. In fact, Brianna is searching for her own son, who was kidnapped by a man determined to learn her family's secrets. Her husband, Roger, has ventured into the past in search of the missing boy . . . never suspecting that the object of his quest has not left the present. Now, with Roger out of the way, the kidnapper can focus on his true target: Brianna herself.
Outlander Books #9 – Go Tell The Bees That I Am Gone
Jamie Fraser and Claire Randall were torn apart by the Jacobite Rising in 1746, and it took them twenty years of loss and heartbreak to find each other again. Now it's 1779, and Claire and Jamie are finally reunited with their daughter, Brianna, her husband, Roger, and their children, and are rebuilding their home on Fraser's Ridge—a fortress that may shelter them against the winds of war as well as weather.
But tensions in the Colonies are great: Battles rage from New York to Georgia and, even in the mountains of the backcountry, feelings run hot enough to boil Hell's teakettle. Jamie knows that loyalties among his tenants are split and it won't be long before the war is on his doorstep.
Brianna and Roger have their own worry: that the dangers that provoked their escape from the twentieth century might catch up to them. Sometimes they question whether risking the perils of the 1700s—among them disease, starvation, and impending war—was indeed the safer choice for their family.
Not so far away, young William Ransom is coming to terms with the mysteries of his identity, his future, and the family he's never known. His erstwhile father, Lord John Grey, has reconciliations to make and dangers to meet on his son's behalf and on his own, and far to the north, Young Ian Murray fights his own battle between past and future, and the two women he's loved.
Meanwhile, the Revolutionary War creeps ever closer to Fraser's Ridge. Jamie sharpens his sword, while Claire whets her surgeon's blade: It is a time for steel.
Fiction Books Related To The Outlander Series
Although all the "big" books in the main Outlander series are listed above, there are some additional books that are related to this series.
Some of them are novellas and short stories, and most of them feature the main Outlander characters, Jamie Fraser and Claire Randall Fraser.
Here is a complete chronological list of all the Outlander books in order including all the related novellas, short stories, and spin-off novels in the author's recommended reading order so that you can see where the related books fit in with the big main novels in the Outlander series.
Non-Fiction Books Related To the Outlander Series
In addition to all the books related to the Outlander series already mentioned above, there are some non-fiction books that are interesting and also related in some way to the whole subject of Outlander.
The Outlandish Companion
The Outlandish Companion – Volume 2
The Official Outlander Coloring Book
Outlander Kitchen
Outlander Kitchen: To The New World and Back Again
Outlander Books In Order – Conclusion
As you can see, Outlander has become quite a brand. If the collection of books isn't enough, then there is also the Starz TV series. Start with Season 1 if you would rather watch the show rather than read the books.
Outlander offers romance, history, intrigue, mystery, fantasy and so much more. If you're in the mood for an epic read, you can't go wrong with the Outlander series.
But, as you can see there are a lot of moving parts to this series, so I hope this list of Outlander books in order helps you navigate all the pieces so you don't miss anything!
---
Trivia Fact About Outlander
My favorite bit of trivia about the book Outlander is that the author, Diana Gabaldon, had already written non-fiction before she wrote Outlander. However, she decided that she wanted to learn how to write a novel. And she decided that the only way to learn was to write one.
So, she decided to write a "practice" novel that she didn't have any intention of showing anyone, just to learn about the novel writing process and to see if she could actually do it.
That practice novel was Outlander.
---
Do you prefer to listen to your books rather than read them? A lot of people do. It's great to be able to listen while you're driving, taking public transportation, maybe while you're working out, or even perhaps while you're cooking! If you're one of those people, here's a nice opportunity to try Audible free for 30 days.
And, ladies, if you've already had the pleasure of reading any Outlander book, or, especially if you've already watched at least one Outlander episode on Starz, I know that you might be wondering who is narrating the part of Jamie Fraser! I don't know! So I can't answer that for you right now. But, that voice, and the Scottish accent…..you know the one if you've watched Outlander, right?
OK, just go get the audiobook now. Let me know how the voice sounds!
Try Audible Free For 30 Days & Get Your First Audiobook Free!
---
Is this your first visit to my blog? If so, check out my About page to learn more about what the heck goes on around here.
---
Related Romance Articles: